Rectangular learning through video, is it effective during the Covid-19 pandemic?
Keywords:
Learning video, Microsoft Powerpoint, Rectangular
Abstract
The Covid-19 pandemic is a challenge for teachers and students in the learning process, especially to implement technology-based learning. Learning mathematics with the characteristics of abstract objects makes teachers have to innovate in the knowledge transfer process. However, not all teachers can make technology-based material innovations. For this reason, it is necessary to develop learning media in the form of videos on rectangular material so that they can become additional references for teachers in learning. The videos were created with the Microsoft PowerPoint application based on the ADDIE development model. The data was collected by using questionnaires, tests, and documentation. Data analysis was carried out qualitatively based on predetermined indicators. The development results show that the video is valid according to expert judgment and the results of the student response questionnaire after the implementation process. However, in terms of material, the video has not provided effectiveness in students' mathematical understanding.
Downloads
Download data is not yet available.
References
Aji, R. H. S. (2020). Dampak Covid-19 pada Pendidikan di Indonesia: Sekolah, Keterampilan, dan Proses Pembelajaran. SALAM: Jurnal Sosial Dan Budaya Syari, 7(5). https://doi.org/10.15408/sjsbs.v7i5.15314
Alshatri, S. H. H., Wakil, K., Jamal, K., & Bakhtyar, R. (2019). Teaching Aids Effectiveness in Learning Mathematics. International Journal of Educational Research Review, 448–453. https://doi.org/10.24331/ijere.573949
Anshori, I., & Illiyyin, U. (2020). Dampak Covid-19 terhadap Proses Pembelajaran di MTs Al-Asyhar Bungah Gresik. Islamic Management: Jurnal Manajemen Pendidikan Islam, 3(2), 181–199. https://doi.org/10.30868/im.v3i02.803
Attard, C., & Holmes, K. (2020). An exploration of teacher and student perceptions of blended learning in four secondary mathematics classrooms. Mathematics Education Research Journal. https://doi.org/10.1007/s13394-020-00359-2
Bao, W. (2020). COVID ‐19 and online teaching in higher education: A case study of Peking University . Human Behavior and Emerging Technologies, 2(2), 113–115. https://doi.org/10.1002/hbe2.191
Busra, Festiyed, & Ramli. (2015). Analisis Kebutuhan Pengembangan Media Pembelajaran Interaktif dengan Menggunakan Power Point Berbasis Model PBL (Problem Based Learning) untuk Meningkatkan Kemampuan Berfikir Kritis Siswa. Seminar Nasional Pembelajaran Fisika, 146–148.
Churiyah, M., Sholikhan, S., Filianti, F., & Sakdiyyah, D. A. (2020). Indonesia Education Readiness Conducting Distance Learning in Covid-19 Pandemic Situation. International Journal of Multicultural and Multireligious Understanding, 7(6), 491. https://doi.org/10.18415/ijmmu.v7i6.1833
Dewi, W. A. F. (2020). Dampak Covid-19 terhadap Implementasi Pembelajaran Daring di Sekolah Dasar. Edukatif : Jurnal Ilmu Pendidikan, 2(1), 55–61. https://doi.org/10.31004/edukatif.v2i1.89
Febrianto, P. T., Mas'udah, S., & Megasari, L. A. (2020). Implementation of online learning during the covid-19 pandemic on Madura Island, Indonesia. International Journal of Learning, Teaching and Educational Research, 19(8), 233–254. https://doi.org/10.26803/ijlter.19.8.13
Hobri. (2010). Metodologi Penelitian Pengembangan (Aplikasi pada Penelitian Pendidikan Matematika). Jember: Pena Salsabila.
Kusumaningrum, B., & Wijayanto, Z. (2020). Apakah Pembelajaran Matematika Secara Daring Efektif? (Studi Kasus pada Pembelajaran Selama Masa Pandemi Covid-19). Kreano, Jurnal Matematika Kreatif-Inovatif, 11(2), 139–146. Retrieved from https://journal.unnes.ac.id/nju/index.php/kreano/article/view/25029
Iskani. (2014). Pengukuran Skala Guttman Tradisional Revisi (2). Retrieved June 5, 2020, from https://www.slideshare.net/Iskani/pengukuran-skala-guttman-tradisional-revisi2-40157823
Mahnun, N. (2012). Media Pembelajaran (Kajian terhadap Langkah-langkah Pemilihan Media dan Implementasinya dalam Pembelajaran). An-Nida', 37(1), 27–35.
Mailizar, Almanthari, A., Maulina, S., & Bruce, S. (2020). Secondary school mathematics teachers' views on e-learning implementation barriers during the Covid-19 pandemic: The case of Indonesia. Eurasia Journal of Mathematics, Science and Technology Education, 16(7). https://doi.org/10.29333/EJMSTE/8240
Mansyur, A. R. (2020). Dampak Covid-19 Terhadap Dinamika Pembelajaran Di Indonesia. Education and Learning Journal, 1(2), 113. https://doi.org/10.33096/eljour.v1i2.55
Marfuah, S., Zulkardi, Z., & Aisyah, N. (2016). Pengembangan Media Pembelajaran Menggunakan PowerPoint Disertai Visual Basic for Application Materi Jarak Pada Bangun Ruang Kelas X. Jurnal Gantang, 1(1), 45–53. https://doi.org/10.31629/jg.v1i1.5
Mubarok, M. U., & Zahroh, U. (2018). Pengembangan Media Pembelajaran Matematika dengan Power Point VBA pada Materi Sistem Persamaan Linear Tiga Variabel. Prosiding SI MaNIs (Seminar Nasional Integrasi Matematika Dan Nilai-Nilai Islami), 2(1), 38–45.
Muktisari, D., Rasiman, & Murtianto, Y. H. (2017). Pengembangan Media Pembelajaran Matematika PPT Berbasis Macros dengan Pendekatan RME pada Materi Kubus dan Balok. Seminar Nasional Matematika dan Pendidikan Matematika (2nd SENATIK), 170–177.
Mulenga, E. M., & Marbán, J. M. (2020). Is covid-19 the gateway for digital learning in mathematics education? Contemporary Educational Technology, 12(2), 1–11. https://doi.org/10.30935/cedtech/7949
Mulyatiningsih, E. (2012). Metode Penelitian Terapan Bidang Pendidikan (1st ed.; A. Nuryanto, Ed.). Bandung: Alfabeta.
Rosyid, M. Z., Sa'diyah, H., & Septiana, N. (2019). Ragam Media Pembelajaran. Malang: Literasi Nusantara.
Santyasa, I. W. (2007). Landasan Konseptual Media Pembelajaran. Makalah, 1–23.
Utami, Y. P., Alan, D., & Cahyono, D. (2020). Studi at Home : Analisis Kesulitan Belajar Matematika pada Proses Pemjbelajaran Daring. Jurnal Ilmiah Matematika Realistik (JI-MR), 1(1), 20–26. Retrieved from http://jim.teknokrat.ac.id/index.php/pendidikanmatematika/article/view/252/84
Widodo, S., & Wahyudin. (2018). Selection of Learning Media Mathematics for Junior School Students. Turkish Online Journal of Educational Technology - TOJET, 17(1), 154–160. Retrieved from http://ezproxy.lib.uconn.edu/login?url=https://search.ebscohost.com/login.aspx?direct=true&db=eric&AN=EJ1165728&site=ehost-live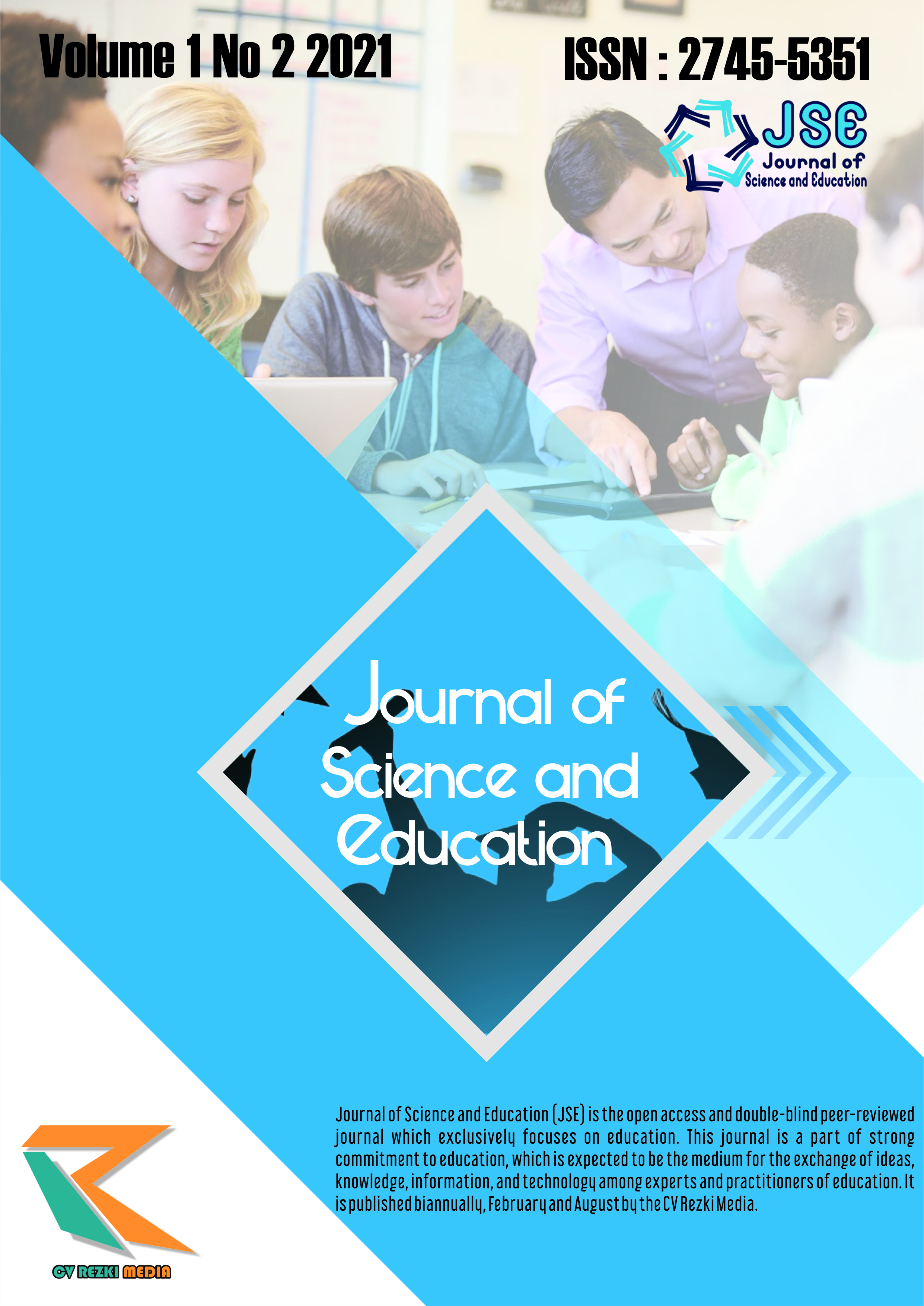 Downloads
How to Cite
Fitriana, L. ., Hariastuti, R. M., Supahmi, N. P., & Maulida, R. F. (2021). Rectangular learning through video, is it effective during the Covid-19 pandemic?. Journal of Science and Education (JSE), 1(2), 48-59. https://doi.org/10.56003/jse.v1i2.25
License
Copyright (c) 2021 Lisa Fitriana, Rachmaniah Mirza Hariastuti, Novita Purnamasari Supahmi, Risa Farroh Maulida
This work is licensed under a Creative Commons Attribution-ShareAlike 4.0 International License.