Improving reading comprehension skill through Listen-Read-Discuss (LRD) learning strategy
Keywords:
LRD Strategy, Reading Comprehension, skills
Abstract
The problem in this research is the students' reading comprehension skills in English. The purpose of this study to investigate the improvement in reading comprehension skills of VIII grade students of SMP Negeri 5 Manda in Maros Regency. This type of research is experimental research. The technique of collecting data is done by using a test technique. The test instrument is in the form of multiple-choice questions tested before and after being treated with learning strategies. The data analysis technique used the t-test. Based on the calculation of the difference test, the average value of the data in the t-test for the equations of means column has a significance value of 0.025> 0.000, so H0 is rejected, so it can be concluded that the Listening-Read-Discuss (LRD) Learning Strategy can be used to improve reading comprehension skills in students.
Downloads
Download data is not yet available.
References
Amri, S. (2015). Implementasi pembelajaran aktif dalam kurikulum 2013. Jakarta: Prestasi Pustaka.
Astri, Z., & Wahab, I. (2018). The effect of reading teaching material for different learning styles in improving students'reading comprehension. Jurnal Bahasa Lingua Scientia, 10(2), 215-230. https://doi.org/10.21274/ls.2018.10.2.215-230
Cline, F. J. (2006). Focus group reaction to three definition of reading as originally developed in support narap goal 1. Minneapolis, M.N:National Accessible Reading Assasment Project.
Creswell, J. W., & Creswell, J. D. (2017). Research design: qualitative, quantitative, and mixed methods approach. London: Sage Publications.
Day, R. R., Bamford, J., Renandya, W. A., Jacobs, G. M., & Yu, V. W. S. (1998). Extensive reading in the second language classroom. RELC Journal, 29(2), 187-191.
Fitriana, H. N. (2015). Keefektifan Strategi Listen-Read-Discuss dalam Pembelajaran Membaca Pemahaman Teks Eksplanasi Pada Siswa Kelas VII SMP. Universitas Negeri Yogyakarta.
Grabe, W. (2009). Reading in a second language: Moving from theory to practice. Ernst Klett Sprachen.
Grellet, F. (1986). Developing Reading Skills: A practical guide to reading comprehension exercises. Ernst Klett Sprachen.
Grellet, F. (1999). Developing reading skills. New York: Cambridge University Press.
Harrison, C. (2004). Understanding Reading Development. London: Sage Publications.
Magliano, J. P., Baggett, W. B., Johnson, B. K., & Graesser, A. C. (1993). The time course of generating causal antecedent and causal consequence inferences. Discourse Processes, 16(1-2), 35-53.
Manzo, A. V., & Manzo, U. C. (1995). Teaching children to be literate: A reflective approach. LiteracyLeaders.
Meltzer, D. E. (2002). The relationship between mathematics preparation and conceptual learning gains in physics: A possible "hidden variable" in diagnostic pretest scores. American journal of physics, 70(12), 1259-1268.
Ningsih, A. A. (2014). Implementasi Model LRD (Listen-Read-Discuss) untuk Meningkatkan Maharah Qira'ah Mahasiswa PPBA Fakultas Hudaya Universitas Islam Negeri Maulana Malik Ibrahim Malang. el-Qudwah.
Retmawasari, N. (2013) Keefektifan Strategi Listen Read Disccus (LRD) dalam Pembelajaran Membaca Pemahaman Pada Siswa Kelas XI SMA Negeri 1 Tempel Yogyakata. S1 thesis, Universitas Negeri Yogyakarta.
Robbins, P. S. (2000). Perilaku Organisasi: Konsep, Kontroversi, Aplikasi, Jilid: 1 dan 2. Jakarta: Prehalindo.
Ruddell, M. R. (2005). Teaching Content Reading and Writing. USA: John Wiley and Sons, inc.
Somadoyo, S. (2011). Strategi dan teknik pembelajaran membaca [Strategies and Techniques of Learning Reading].
Souhila, R. (2013). The Use of Reading Strategy in Improving Reading Comprehension. University Kasdi Merbah Ouargla.
Sudjana, N. (1995). Penilaian Hasil Proses Belajar Mengajar. Bandung: PT. Remaja Rosdakarya.
Sudjana, N. (2013). Dasar-Dasar Proses Belajar Mengajar,. Bandung: Sinar Baru Algensindo.
Sudjono, A. (2009). Pengantar Statistik Pendidikan. Jakarta: Rajawali Press.
Sugiyono. (1997). Metodologi Penelitian Administrasi. Yogyakarta: CV Alfabeta.
Sugiyono. (2012). Pengantar Evaluasi Pendidikan. Jakarta: Raja Grafindo Persada.
Suhartina, R. (2015). Teacher's Role In Teaching English As A Foreign Language. Jurnal Ilmu Budaya.
Syamsuddin., A. R. (1997). Studi Wacana Bahasa Indonesia. Jakarta: Depdikbud.
Tarigan, H. G. (2008). Membaca Sebagai Suatu Keterampilan Berbahasa. Bandung. Angkasa
Zuchdi, D. (2008). Strategi Meningkatkan Kemampuan Membaca. Yogyakarta: UNY Press.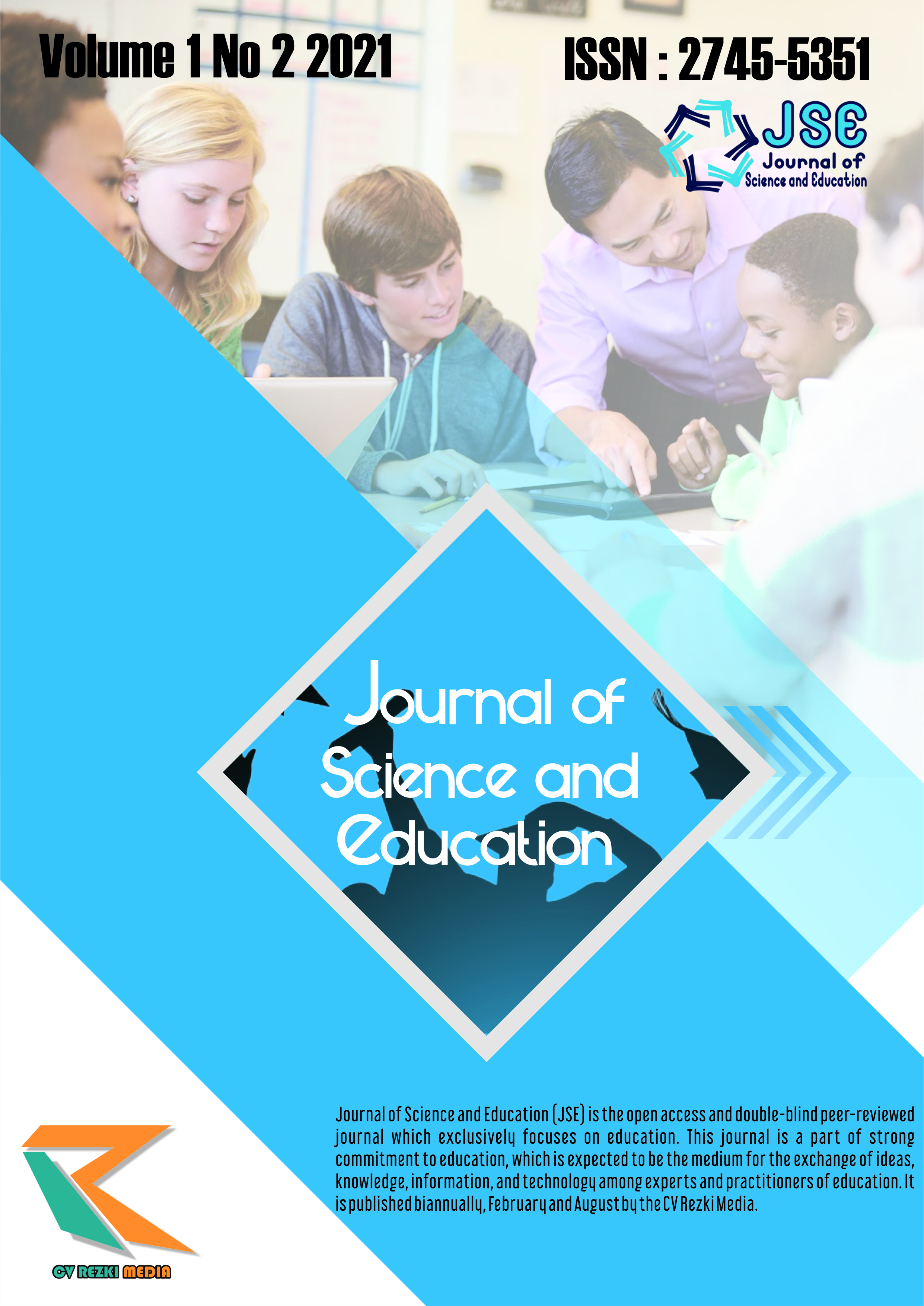 Downloads
How to Cite
Syamsir, N. F., Astri, Z., Suhartina, S., & Noer, F. (2021). Improving reading comprehension skill through Listen-Read-Discuss (LRD) learning strategy. Journal of Science and Education (JSE), 1(2), 60-71. https://doi.org/10.56003/jse.v1i2.28
License
Copyright (c) 2021 Nur Faindah Syamsir, Zul Astri, Suhartina, Fhadli Noer
This work is licensed under a Creative Commons Attribution-ShareAlike 4.0 International License.