Evaluation of the periodic table as a teaching tool and content for conceptual change in chemical processes
Keywords:
Periodic table, conceptual change, chemical bonding, chemical reactions
Abstract
This study focused on two crucial chemistry concepts, chemical bonding and related reactions. It explored how learners may conceptually use the periodic table in their scientific understanding. Specifically, the study's goal was to ascertain the effect of the use of this tool on learners' conceptual knowledge and/or reasoning abilities during learning or knowledge construction. The study utilized qualitative methodology and was based on a case (the school). For the purposes of the experiment, the participating learners—learners in grade 11 chemistry—were split into two groups (control group and experimental group). The study's findings indicate relationships between learners' knowledge (re)construction of chemical processes and their applicability to the periodic table. Future research is suggested by the researchers on the links between learning conceptual change and teaching approaches using the periodic table.
Downloads
Download data is not yet available.
References
Ausubel, D., Novak, J.D. & Hanesian, H. (1978). Educational Psychology: A Cognitive view (2nd.Ed.) New York: Werbel & Peck.
Bierenstiel, M., Snow, K. (2019). Periodic Universe: A Teaching Model for Understanding the Periodic Table of the Elements. Journal of Chemical Education, 96 (7), 1367-1376. DOI: 10.1021/acs.jchemed.8b00740.
Bunce, D. M., Gabel, D.L., and Samuel, J.V. (1991). Enhancing Chemistry Problem-Solving Achievement Using Problem Categorization. Journal Of Research In Science Teaching, 28,6, 505-521.
Davis, H. A. (2003). Conceptualizing the role and influence of student-teacher relationships on children's social and cognitive development. Educational psychologist, 38(4), 207-234.
Franco-Mariscal, A. J., Oliva-Martinez, J. M., Almoraima Gil, M. L. (2015). learners' perceptions about the use of educational games as a tool for teaching the periodic table of elements at the high school level. J. Chem. Educ., 92, 278−285.
Gardner, H. (2012). The theory of multiple intelligences. Early professional development for teachers 133 (2012).
Graneheim, U.H,. Lindgren, B.M., & Lundman, B. (2017). Methodological challenges in qualitative content analysis: A discussion paper. Nurses education today, 56, 29-34.
Hewson, P. W., & A'B. Hewson, M. G. (1988). An appropriate conception of teaching science: A view from studies of science learning. Science education, 72(5), 597-614.
Kapur, M. (2012). Productive failure in learning the concept of variance. Instr Sci 40, 651–672. https://doi.org/10.1007/s11251-012-9209-6.
Lindgren, B.-M. Lundman, B. and Graneheim, U.H. (2020). Abstraction and interpretation during the qualitative content analysis process. International Journal of Nursing Studies 108 (2020) 103632
Mokiwa, H.O. (2017). Reflections on Teaching Periodic Table Concepts: A Case Study of Selected Schools in South Africa. EURASIA Journal of Mathematics Science and Technology Education ISSN: 1305-8223 (online) 1305-8215 (print) 2017 13(6):1563-1573 DOI 10.12973/eurasia.2017.00 685a.
Niaz, M., & Luiggi, M. (2014). Facilitating conceptual change in learners' understanding of the periodic table. In Facilitating Conceptual Change in learners' Understanding of the Periodic Table (pp. 1-49). Springer, Heidelberg.
Siegler, R. S., Duncan, G. J., Davis-Kean, P. E., Duckworth, K., Claessens, A., Engel, M., Chen, M. (2012). Early predictors of high school mathematics achievement. Psychological Science, 23(7), 691–697. Doi:10.1177/0956797612440101.
Sinatra, G. M., & Pintrich, P. R. (2003). The Role of Intentions in Conceptual Change Learning: Gale M. Sinatra and Paul R. Pintrich. In Intentional conceptual change (pp. 10-26). Routledge.
Schmidt, H. J., Kaufmann, B., & Treagust, D. F. (2009). learners' understanding of boiling points and intermolecular forces. Chemistry Education Research and Practice, 10(4), 265-272.
Schmidt, S. J. (2010). Radical constructivism: A tool, not a super theory!. Constructivist Foundations, 6(1), 6-11.
Thompson, A. G. (1992). Teachers' beliefs and conceptions: A synthesis of the research.
Tóthová, M., Rusek, M., & Chytry, V. (2021). Students' procedure when solving problem tasks based on the periodic table: An eye-tracking study. Journal of Chemical Education, 98(6), 1831-1840.
Vygotsky, L. S. (1989). Concrete human psychology. Soviet psychology, 27(2), 53-77.
Wangila, M. J.; Martin, W.; Ronald, M. (2015). Effect of Programmed Instruction on learners' Attitude towards Structure of the Atom and the Periodic Table among Kenyan Secondary Schools. Science Education International, Vol. 25, Issue 4, 488-500.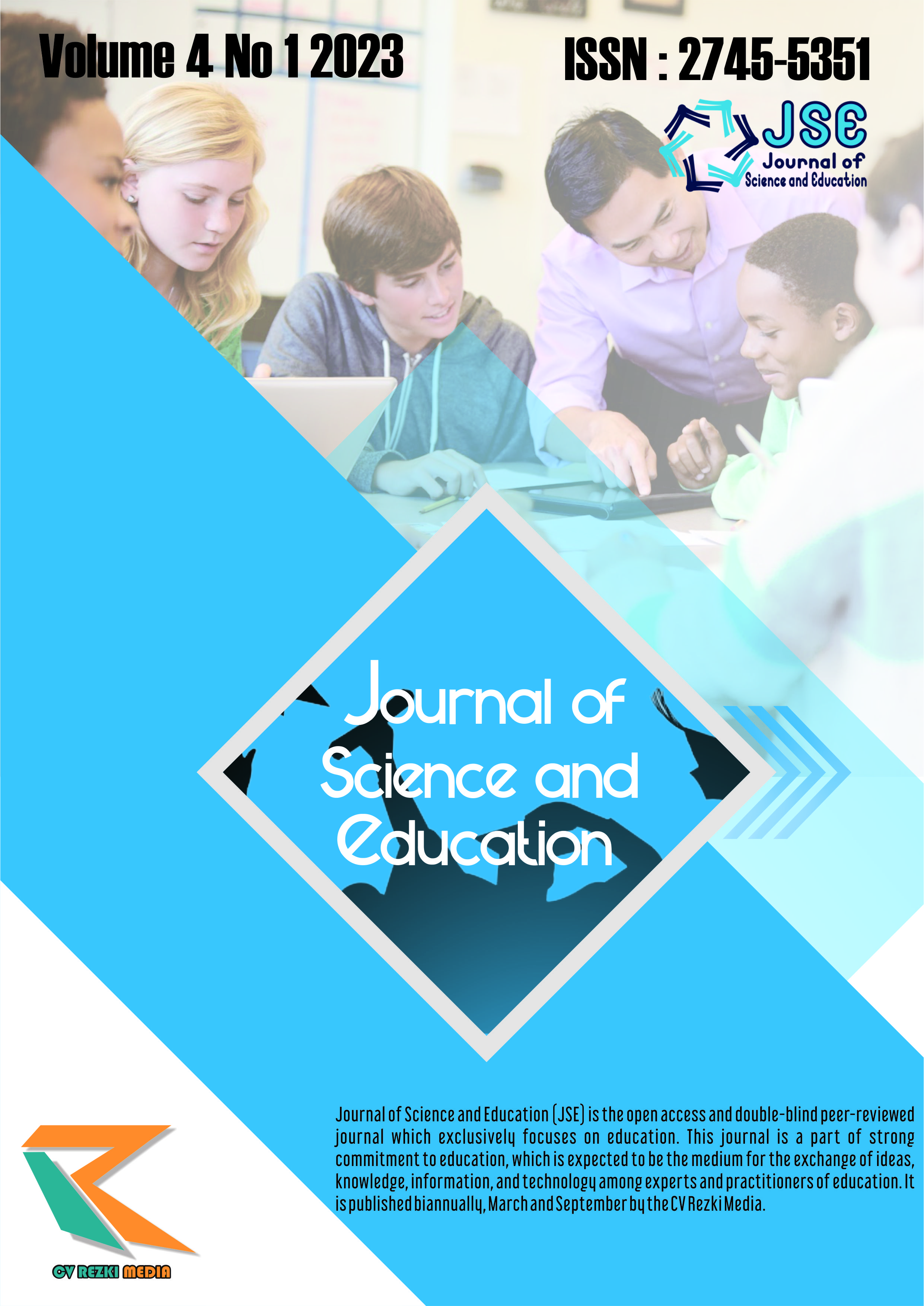 Downloads
How to Cite
Mhlongo, T., & Sedumedi, T. D. (2023). Evaluation of the periodic table as a teaching tool and content for conceptual change in chemical processes. Journal of Science and Education (JSE), 4(1), 14-31. https://doi.org/10.56003/jse.v4i1.267
License
Copyright (c) 2023 Thabo Mhlongo, Thomas Dipogiso Sedumedi
This work is licensed under a Creative Commons Attribution-ShareAlike 4.0 International License.