Friendship, joy, and physical fitness of elementary school students: outcome-based macro evaluation of physical education in Madura Island
Keywords:
evaluation, physical education, friendship, joy
Abstract
The lack of information regarding the benefits of physical education in primary education (SD/MI) in Madura Island resulted in its potential value not being fully realized. In addition, the existence of physical education is often seen as a peripheral or unimportant subject in the school curriculum. Meanwhile, outcomes, which are evaluations at the social or community level, often need to be thoroughly explored. The benefits of physical education ideally are based on the criteria of friends, fun, and fitness. This study seeks information about interpersonal peacefulness, physical activity enjoyment, and physical fitness. The research method used is quantitative and correlational descriptive with a testing design using the discrepancy evaluation model. The respondents involved in this study are 523 students. The results show that the mean of interpersonal peacefulness among students and physical activity enjoyment has met the established criteria, while the mean of physical fitness of students has not met the established criteria. The three variables have a functional relationship with a significant value <0.05. Recommendations that can be given to physical education teachers are to pay more attention to the element of physical activity enjoyment in children. According to hedonism theory, behavioral learning theory, and perceptual theory, humans always seek and repeat any action that gives pleasure. So, if exercising brings joy, they will repeat the activity. The more joy, the more active they will be in exercising.
Downloads
Download data is not yet available.
References
Burns, R. D., Fu, Y., & Podlog, L. W. (2017). School-based physical activity interventions and physical activity enjoyment: A meta-analysis. Preventive medicine, 103, 84-90. https://doi.org/10.1016/j.ypmed.2017.08.011
Fernandez, N., & Audétat, M. C. (2019). Faculty development program evaluation: a need to embrace complexity. Advances in medical education and practice, 191-199. https://doi.org/10.2147/AMEP.S188164
Freitas, M., Santos, A. J., Ribeiro, O., Daniel, J. R., & Rubin, K. H. (2019). Prosocial behavior and friendship quality as moderators of the association between anxious withdrawal and peer experiences in Portuguese young adolescents. Frontiers in Psychology, 9, 2783. https://doi.org/10.3389/fpsyg.2018.02783
Harianjogja.com. (2021, 29 April). Menpora: Pelajaran Penjaskes Sering Dianggap Tidak Penting. Diakses pada 10 Maret 2023, dari https://jogjapolitan.harianjogja.com/read /2021/04/29/510/1070407/menpora-pelajaran-penjaskes-sering-dianggap-tidak-penting
Li, J., Huang, Z., Si, W., & Shao, T. (2022). The Effects of Physical Activity on Positive Emotions in Children and Adolescents: A Systematic Review and Meta-Analysis. International Journal of Environmental Research and Public Health, 19(21), 14185. https://doi.org/10.3390/ijerph192114185
Ma'arif, I., & Hasmara, P. S. (2023). The Relationship Between Physical Activity and Physical Fitness of Elementary School Students Aged 10–12 Years. JOURNAL RESPECS (Research Physical Education and Sports), 5(1), 81-88. https://doi.org/10.31949/respecs.v5i1.4059
Ma'arif, I., & Prasetiyo, R. (2021). Tingkat Kebugaran Jasmani Siswa Sekolah Dasar Saat Pandemi Covid-19. Jurnal Pendidikan Tambusai, 5(2), 3451-3456.
Miljanovic Damjanovic, V., Obradovic Salcin, L., Zenic, N., Foretic, N., & Liposek, S. (2019). Identifying Predictors of changes in physical activity level in adolescence: A prospective analysis in Bosnia and Herzegovina. International journal of environmental research and public health, 16(14), 2573. https://doi.org/10.3390/ijerph16142573
Pangrazi, R. P., & Beighle, A. (2019). Dynamic physical education for elementary school children. Human Kinetics Publishers.
Park, J. H., Moon, J. H., Kim, H. J., Kong, M. H., & Oh, Y. H. (2020). Sedentary lifestyle: overview of updated evidence of potential health risks. Korean journal of family medicine, 41(6), 365. https://doi.org/10.4082%2Fkjfm.20.0165
Permendiknas. (2006). Peraturan Menteri Pendidikan Dan Kebudayaan Republik Indonesia Nomor 22 Tahun 2006 tentang Standar Isi untuk Satuan Pendidikan Dasar dan Menengah. Jakarta.
Raibowo, S., & Nopiyanto, Y. E. (2020). Proses belajar mengajar PJOK di masa pandemi Covid-19. STAND: Journal Sports Teaching and Development, 1(2), 112-119. https://doi.org/10.36456/j-stand.v1i2.2774
Rosidi, S. dan Rosidi, R., (2021). Penelitian Terapan Profesi Pendidikan. Jakarta: Publica Indonesia Utama.
Rullestad, A., Meland, E., & Mildestvedt, T. (2021). Factors predicting physical activity and sports participation in adolescence. Journal of environmental and public health, 2021, 1-10. https://doi.org/10.1155/2021/9105953
Ryan, J., Edney, S., & Maher, C. (2017). Engagement, compliance and retention with a gamified online social networking physical activity intervention. Translational behavioral medicine, 7(4), 702-708. https://doi.org/10.1007/s13142-017-0499-8
World Health Organization, T. (2010). Global recommendations on physical activity for health. World Health Organization.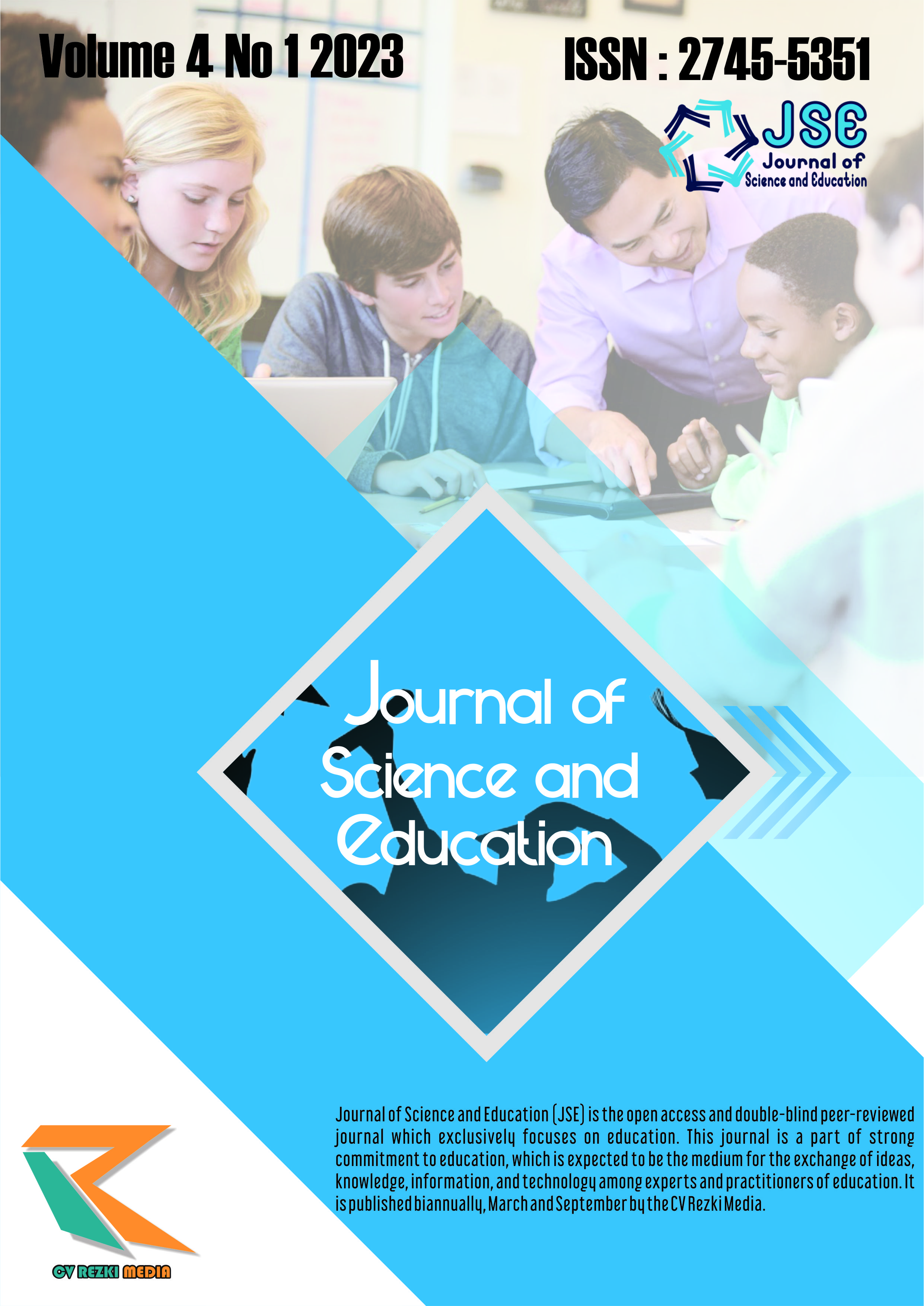 Downloads
How to Cite
Jufri, A. W., Rosidi, S., & Purwati, T. (2023). Friendship, joy, and physical fitness of elementary school students: outcome-based macro evaluation of physical education in Madura Island. Journal of Science and Education (JSE), 4(1), 39-47. https://doi.org/10.56003/jse.v4i1.273
License
Copyright (c) 2023 Arief Wildan Jufri, Sakban Rosidi, Titik Purwati
This work is licensed under a Creative Commons Attribution-ShareAlike 4.0 International License.